I recently discovered these really cool mini speakers. I thought that they are so useful that I had to make a post about them. I've never owned anything like this before.
I discovered one of them at a local thrift store. The color really caught my eye as It was hanging from the rack. If it wasn't for the color(orange) I might of passed on it.
When I grabbed it. I wasn't sure at first what it was and what features it had. Luckily they usually have a testing shelf at all the thrift shops I frequent.
I love checking out electronics at thrift shops because you always run into new electronics that I never knew existed.
The product I found turned out to be a mini portable bluetooth rechargeable speaker. I found this out because I found the model number written on the product and i searched it online which is something i usually do before purchasing used electronics.
This mini speaker's mode is: Starline HLEL79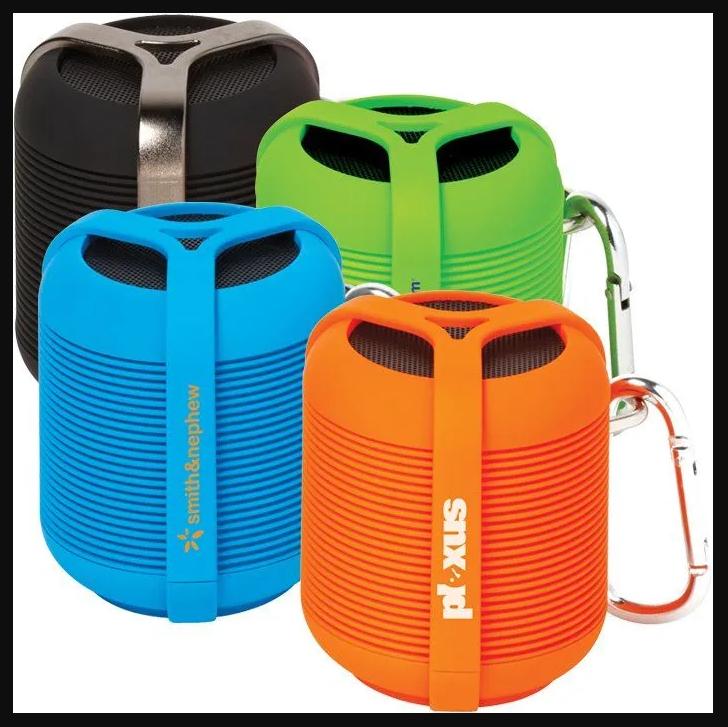 I was skeptical at first about the quality of these mini speakers. The reason is I've owned much bigger speakers and they are usually too quiet not worth the money.
Here is a picture of my old speakers.
Yes. They speakers are ancient. THEY SUCK.
I don't listen to a lot of music so I don't need a huge speaker setup. I usually only listen to short videos or podcasts and i've moved away from listening to podcasts on my computer. I listen to them on my android phone.
The issue is the speakers are terrible on phones and I don't want to use earphones all the time.
Back to the speaker… I turned it on and hooked it up using the bluetooth. It was fairly easy. I went on YouTube to find a test video and boom! It worked. I didn't need to charge the speaker. It still had juice.
It was fairly loud. Much louder then my old speakers and the quality was much better. I was actually impressed. They wanted 7.99CAD for it.
I can't find this one online as it's old but it goes around 50CAD for one.
The mini speaker has an audio in aux port and a use type-b charging port.
I figured It could replace my current speakers and since it was much smaller. It would save me space.
I've been using it for several weeks now and I'm happy with it.
I use it with my phone much more then my computer. What i love about it is since it's bluetooth I can walk around with the speaker and leave my phone on it's docking station. It's very convenient.
In the past I used to have to turn up the volume of my speakers at max if i wanted to go work out in a different room and It's not a good way to listen to podcasts and it's easy to miss some words.
With this little speaker I can just carry it everywhere without turning the volume at max.
I love it!
It's also a bit lighter than my cellphone.
Online in the specifications it says:
Listen up to a range of 10m/33ft for up to 5 hours straight with a 3 hour recharge time.
I've been at 30 feet and it works fine.
I thought about situations if I was a mechanic I could just keep my phone at my desk and carry around this small speaker. Phone can easily get scratched or dropped.

I normally keep it plugged in at my desk so it's always charged. It has discharged once and it gives you a beep as a warning before it automatically shuts down. If you turn off your blue tooth it will also automatically turn off after a couple minutes. If you turn on your bluetooth you will need to turn on the speaker manually using the button on the speaker but you won't have to manually connect it to the bluetooth again. It remembers the bluetooth and it will connect to it automatically.
The issue i ran into is you can't connect 2 devices at the same time using bluetooth(2 phones) and once you plug it to your computer using the audio in from your computer it disconnects from your phone. A bit annoying…
So i decided to… purchase another once! I see tons of these little speakers at thrift shop.
I bought this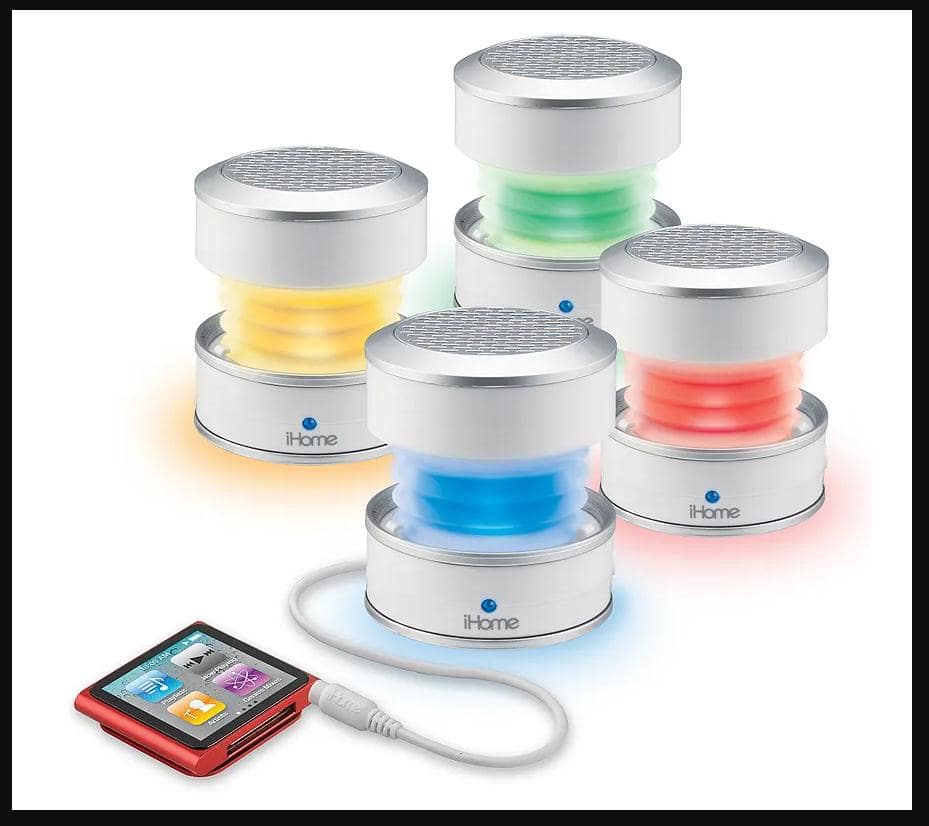 It's a iHome iHM61
This one is not bluetooth. It a corded one. My computer is not bluetooth capable so bluetooth doesn't matter. It has a rechargeable battery but it doesn't matter to me as I will keep it plugged in all the time. The bad thing you can't walk around with it. But it's not a big deal. I'll use it at my computer only.
It has fancy lights of different colors but it gives you the ability to turn it off with a button on the side. I don't like the lights. They are annoying. I keep them turned off all the time.
This little speaker is also fairly loud. I am impressed by it. I got this one for 5.99CAD. What a deal!
It's going on ebay for 20CAD plus 26 for Shipping. Shipping prices are ridiculous.
I ended up getting a third one for my second phone since you can't use bluetooth on two phones.
Model: DOK CR10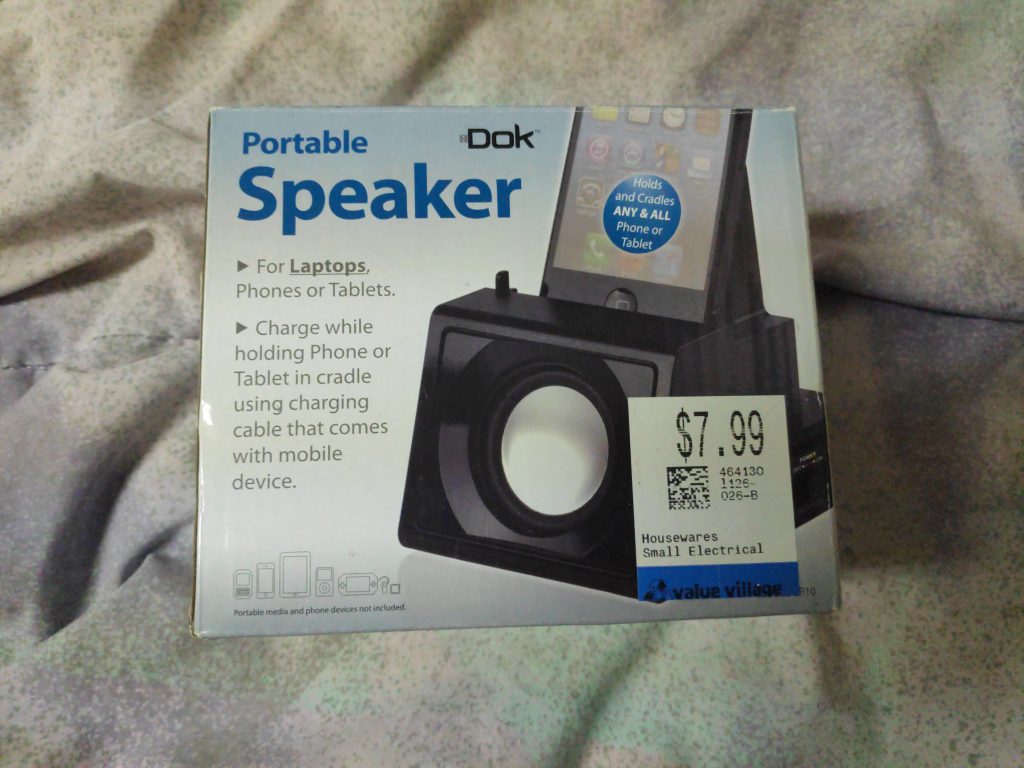 This one turned out bad. I got tricked by the size of it and it looked fancy with a built in docking stations. I thought it would super loud with super cool bass. It turned out to be like my old speaker! JUNK!
I messed up by not reading the specifications to see how loud they would be. I got it for 7.99. Too expensive. It was a bad day. For now I am done buying more mini speakers for now.
Here is a short video comparison of all these speakers.
In conclusion. I recommended buying one of these tiny speakers. Unfortunately the ones I got are several years old. I'm sure there is better & smaller portable mini speakers for sale.
I checked out new ones on amazon and found many of them much better then mine.

Mini Portable Speakers – Amazon
I also checked out AliExpress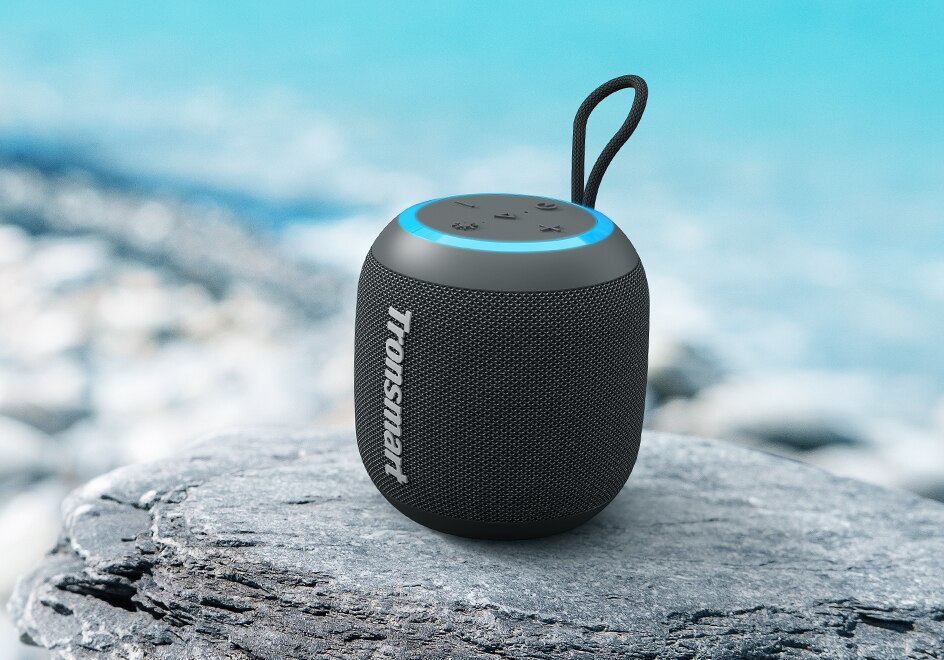 Mini Portable Speakers – AliExpress
They are much more expensive then what I paid but newer.
I'm sure If you check out your local thrift shop you could find some there!
by the way this was my first Product Review. I will label them PR# on the title and add a Product Review category.
bye!